Public artwork at Braiswick Primary School
Client: Essex County Council's Capital Builds Team
Local Planning Authority: Essex County Council
Location: Colchester, Essex
Date: 01 July 2016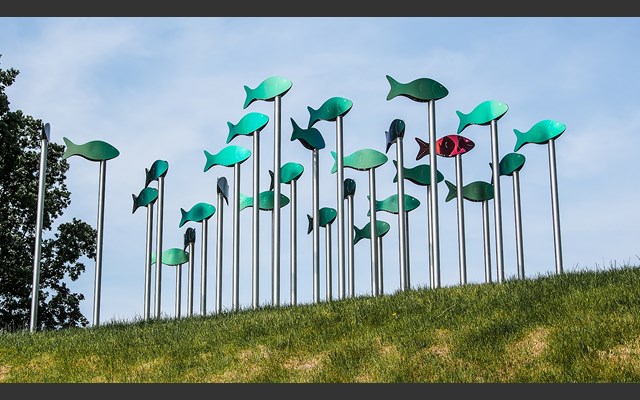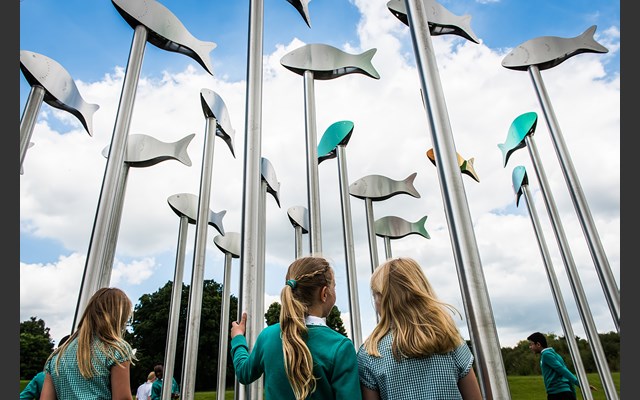 Images: 'Swimmy' by Dallas, Pierce and Quintero - Braiswick Primary School
The art and architecture collaborative, Dallas, Pierce and Quintero (DPQ) were commissioned by Place Services to engage pupils from local schools and develop an interactive artwork that reflected the heritage of the area; the location of the school formerly being the site of the Fläkt Woods factory. Maurice Woods established the Woods factory in 1909; in 2002 Woods joined with the Swedish firm Fläkt. Fläkt Woods Group is now a global leader in air technology solutions and axial fans technology.

The brief for the project referenced the heritage of the school's location, challenging the appointed artists to develop a work that reflected the history in an appropriate and engaging way for pupils at the school.
Creative workshops were held with local pupils; activities involved engaging two separate classes of children from White Hall Academy. Each class was divided into a small group of 7/8 children who worked together on creating a single 3m long drawing that mapped the different types of movements created by either a flock of birds, a shoal of fish or a single rabbit running and jumping through the grass.
It was DPQ's aim for the children to experiment with the animal templates provided and explore the drawing style of stop animation, capturing the particular motion generated by the animal type in question. Witnessing this process helped inform their thinking towards which animal movements the artworks might embrace.

The team then researched how to realise the varying types of kinetic movement each animal could be generated. The designs were further enriched by referencing an existing children's story 'Swimmy' by Leo Lionni and the 'Fish' philosophy or principles adopted by Braiswick Primary School.
Using wind energy to animate the sculpture and storytelling enables further opportunities for teaching staff to develop creative lesson plans around key curriculum topics.
People involved