Camulos Primary School Public Art Commission
Client: Camulos Primary School
Local Planning Authority: Essex County Council
Location: Colchester, Essex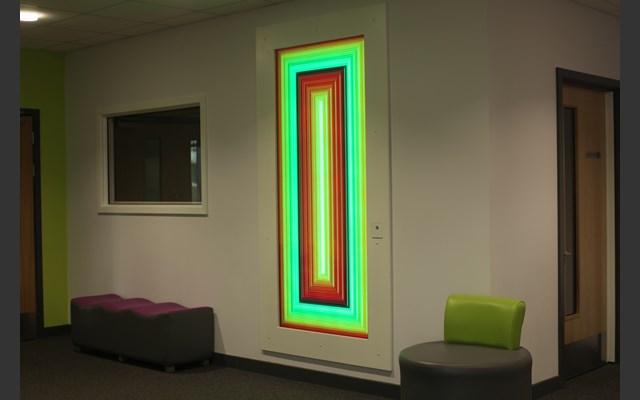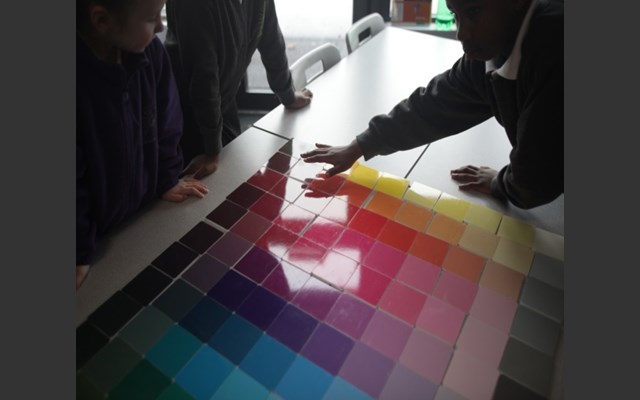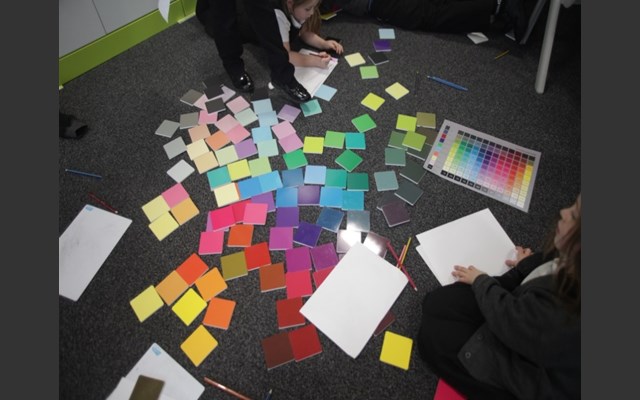 Place Services worked with Essex County Council's Capital Builds team on the development of Camulos Primary in Colchester. The creative collaborative - Heinrichpalmer - were appointed to create an interactive artwork that would reflect the school's ethos.
The creative collaborative Leon Palmer and Anna Heinrich were commissioned to develop an interactive artwork that reflected values of the new school.
The overarching theme for the project was to develop work which challenged and engaged with our perception of the world in an appropriate and engaging was for pupils and teaching staff. Heinrichpalmer have used colour to do this. Colour relates to so many areas of our lives and can be explored and look at from so many different perspectives - from science and history to language and art.
The resulting works, 'Colourvision 1&2' are interactive lightboxes, one for the main foyer entrance of the school and the second located in the library, enabling it to be incorporated into lessons.
To accompany the artworks Anne and Leon have created a resource which can be used as a teaching aid for the exploration of colour, which was developed in conjunction with 'Colourvision', the wall based artworks.
The resource comprises of two different sets of swatches Colour Capture and Colour Pixel – with each set containing 120 colours. The colours have been carefully chosen to cover a broad range of the spectrum.
Colour Capture comprises of 120 doubled sides Foamex swatches, which have a dry wipe laminate surface. Ten of these swatches have been named. Some of these names have been inspired by some of the locations/ buildings in and around Colchester. The other swatches have been left blank to allow the children to create their own names with the dry wipe eraser pens which are included in the sets. There are 4 duplicate sets making a total of 480 swatches.
Colour Pixel comprises of 120 magnetic swatches, which have been laminated on one side with a dry wipe laminate. There are 12 duplicate sets with each box containing 3 sets making a total of 1440 swatches. A large magnetic dry wipe display board has been supplied for the creative play and display of the different designs produced with the colour swatches.
Creative workshops were held with the pupils and teachers to explore how the education packs could assist and inform creative curriculum based activities. As a result the two styles of coloured squares can be used within a classroom setting or as a complement to outdoor learning.