Kingsmoor Flood Alleviation
Client: Essex County Council Flood Team
Local Planning Authority: Harlow
Location: Harlow, Essex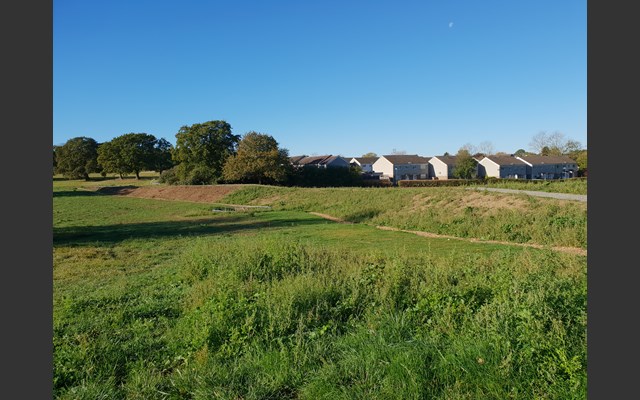 The Essex County Council Flood and Water Management Team work towards alleviating surface water flooding to residential properties throughout Essex through their Capital Programme. Place Services have been involved in this Programme since 2015 and have helped deliver a number of schemes in the most sustainable way possible.
Kingsmoor was a two part scheme, utilising two types of Natural Flood Management to protect residential properties.

The first part of the scheme was to create an earth bund on Kingsmoor playing field, with a culvert to divert water into the existing drainage after a heavy rainfall event. By using natural materials to build the bund, the appearance of the playing field, although altered, was not significantly affected. There were a number of important and high amenity value trees on the site, as well as some dead trees providing high biodiversity value, including potential bat roosts.
The second part of the scheme was to create eight leaky dams in two local SSSI woodlands. The aim of these was to hold water back in suitable locations, rather than allowing it to overflow in residential areas.

To enable the Flood Team to work in an area of such high importance, Place Services commissioned the use of heavy horses to move the natural materials, which were sourced from site, through the woodlands. This minimised the disruption to the soil, therefore protecting the important trees and ecology in the area.

The construction of both parts of the scheme was carried out with minimal disturbance to the local people and to the natural environment. Although some trees were lost, the visual impact of the field has not been altered. Prior to the removal of all trees with roost potential, our ecology team carried out endoscope inspections to ensure no bats were harmed during the felling process.

The scheme has recently won Small Project of the Year at the British Construction Industry Awards, as a result of the ecological, environmental and social benefits that it provides. This is as a result of the collaboration of the Flood Team, and multi-disciplinary teams within Place Services including Ecology, Arboriculture and Historic Environment. It is a scheme in which we are particularly proud to have been involved and are exceptionally pleased that the approach of the flood schemes we support has been recognised in such a way. We look forward to working on more schemes in the future, bringing not only a reduced flood risk to the people of Essex, but enhancing the natural environment at the same time.